M.E. LaZerte News

Subscribe to M.E. LaZerte News through
Parents in the Mandarin Bilingual Program - Join the Edmonton Chinese Bilingual Education Association!
EDMONTON CHINESE BILINGUAL EDUCATION ASSOCIATION (ECBEA)
Parents with students enrolled in the Mandarin Bilingual program are invited to become active members of the ECBEA, helping to support its goals, including:
promoting the learning and understanding of Chinese language and culture
serving as a collective voice on behalf of parent members
liaising with Edmonton Public Schools on matters pertaining to Chinese bilingual education
promoting Chinese language education through public media
providing volunteer support where required.
Congratulations Xavier - Recipient of the 2021 Garth Worthington Scholarship!
Congrats to Xavier for winning the Garth Worthington Memorial Scholarship for outstanding skill in vocal and choral music!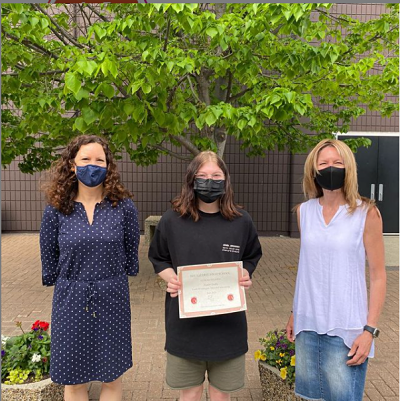 Welcome an International Student Into Your Home
Can you provide a welcoming and caring home for a 15 to 18-year-old international student? Our International Student Program is growing and we need your help. Learn about the benefits of becoming a host family and apply at http://www.whyihost.ca/edmonton. If you have questions about the hosting experience, contact hostinfo@CanadaHomestayNetwork.ca
M.E. LaZerte High School Registration Full For 2021-22 - See exceptions below
M.E. LaZerte High School is full in planned classes in Grades 10 to 12 in the regular Program.
We will now only accept resident students who move into the school's attendance area for the regular program.

A resident student of Edmonton Public Schools has at least one parent or legal guardian living in Edmonton who is not Roman Catholic. Non-resident students can enrol in another Division school with space in planned classes.
If you are new to Edmonton Public Schools, you must register online.
Virtual Career Day - Tuesday, April 20 - Need to Know
Virtual Career Day - This Tuesday April 20th is Career Day across the Edmonton Public school Division. High Schools across the division will all be attending a variety of Career related sessions on this day. The schedule, presenter information and digital meet links can all be found at this
site.
This
promotional video
gives students some ideas on how to make the most of their day. Students can also engage on Instagram by following @epsbcareerday2021.
Students are expected to be in attendance for the day. They may attend in-person from their regularly scheduled class or they may attend online from home. Teachers will hold brief attendance check-in meets with their classes in the morning (9:35 am) and in the afternoon (12:45 pm) prior to attending the career day sessions.