Student Illness What to Do. When to Get Tested for Covid. Legal Requirements if You Test Positive or Negative.
Please read this important document from the Government of Alberta instructing what a student needs to do if they are ill, given the current Covid pandemic.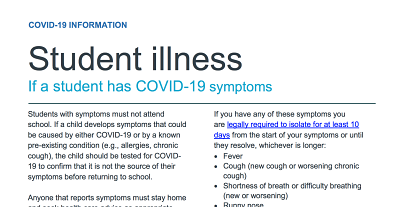 Mental Health Support Services Available Over the Holidays
If you find yourself in need of support this holiday season, there are many places offering support. The holidays can be filled with joy and rest, but they can also be stressful. If you find yourself struggling with mental health here is a list of services available over the holidays.
Walk in Counselling at AHS (Alberta Health Services) in Northgate Mall

Northgate Mall - 2nd Floor
Monday to Friday 12:30pm - 4:00pm
Latest time to arrive is 3:00pm-3:15pm
Children's Mental Health

Northgate Mall has counselling services covered by Alberta Health Care that cost you nothing.
The intake number there is: 780-342-2701
Canadian Mental Health Association (CMHA)
Helpful to Know Where You Should be in the School: Colour Coded Floor Maps for Quarter One - 2020
This map is a quick reference to the colour coded floor maps for quarter one, 2020. Use this map to know where to enter, exit, and where you should be during your in-school classes.
Thank-you Staff for Donations for Families in Our School Community!
As you can see in the picture below, our staff have donated many items to add a little something to families in our school community, in an especially trying year. Thank you staff and much love to all our LaZerte families!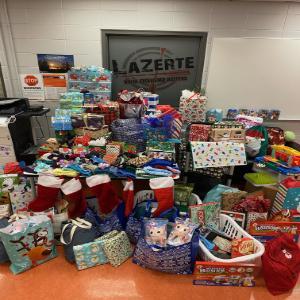 Quarter Two Switch to Online Learning - Need to Know Information
Please be aware of the following dates and important information as we swtich quickly as per Government of Alberta directive until January 11th.
Read the full document of student expectations and preparatory information here.