January 30 - Public Discussion with EPSB Trustees: Current Realities in Edmonton Public Schools
Find out the latest information on the realities of public education with Edmonton Public Schools.
Hosted by EPSB Trustees Trisha Estabrooks and Michelle Draper. Information in the poster below.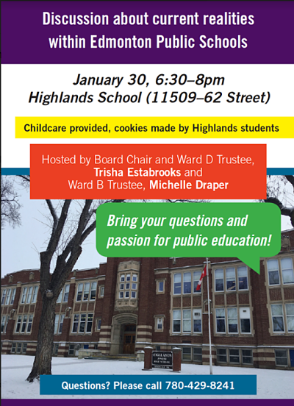 Diploma Preparation by Edmonton Public Schools
Amplify your diploma exam preparation with Edmonton Public Schools' qualified and experienced teachers!
Register here through EPSB's Metro Continuing Education.

Coffee & Conversation!
Please join us for coffee and conversation! Wednesday, November 20, 2019 at 8:15 am.
Career Day 2019
‌Our phenomenal Career Day happens again this Friday, November 8, 2019. All students have had the opportunity to sign up in School Zone for presentations from over 100 presenters about their Career. The day starts at 9:00 AM and attendance will be taken in all sessions.
Have fun exploring Voyageurs!
Progress Report Meetings
All parents and guardians are invited to join us for Progress Report Meetings from 4:30 - 7:00 PM on Thursday, November 7, 2019 to discuss how students are progressing mid way through Semester 1. This video explains how the evening works. We look forward to seeing you, and please feel free to bring your student as well.