Blog 2019-20

Subscribe to Blog 2019-20 through
Community Movie Night - Black History Month - Join Us!
The Black History Month student group is hosting a community movie night in the library this coming Monday, February 24th. We will watch the Academy Award nominated movie "Hidden Figures" (rated PG).
All students, staff, friends and family are welcome to attend!
What: LaZerte Community Viewing of the Movie "Hidden Figures"
Where: LaZerte Library
When: Monday, February 24th
Doors: 5:45pm

Introductory Remarks: 6:15pm

Movie Start: 6:30pm

Movie End: 8:30pm
Why: To come together and share community around an important month of historical learning and reflection about Black History, and inspire ongoing, continuous learning.
Questions? Contact Mr. Parker - andrew.parker@epsb.ca or Mr. Semenuk - harold.semenuk@epsb.ca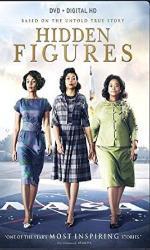 Valentines "Crushing" on M.E. LaZerte
It's no secret that LaZerte students are admirers of our school - see the love for yourself!
Click here and enjoy!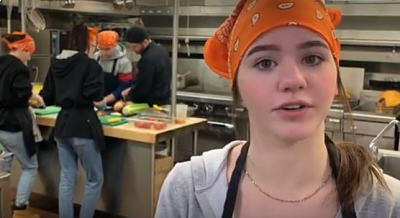 LaZerte Open House - Spread the Word - Save the Date - March 5th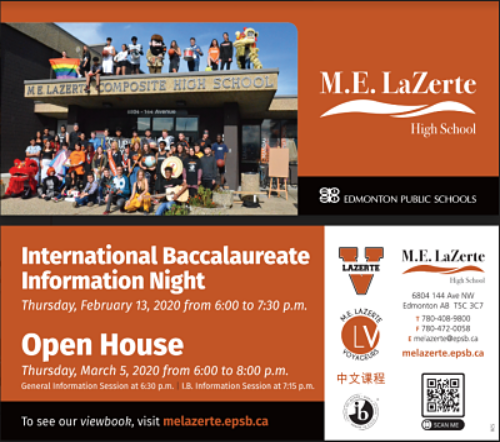 Spirit Wear - Available to Order
Attention Voyageurs - if you would like to order your very own "spirit wear", please go on our website to order. The online store will be open until February 21st! https://lazertespirit2020.itemorder.com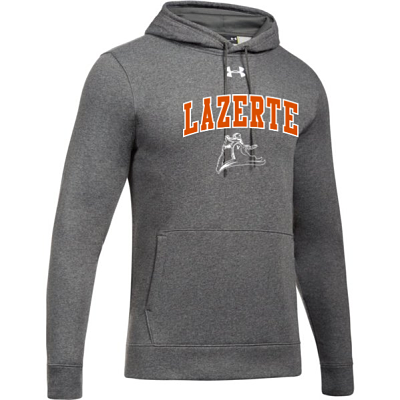 OverDrive E-Book and Audiobook LaZerte Library - Now Available!
We're excited to let you know that OverDrive is up and running for LaZerte via the Sora App (not to be confused with Solaro)
With our yearly license we will be able to access 4300+ ebooks and ~250 audio books, exclusive to EPSB participating high schools - which as of this week includes M.E. LaZerte!
You can install the Sora App for free (search for "Sora" in Google Play or Apple Store, download and install) on any of your mobile devices. You will likely have to search for our school (type M.E.LaZerte when prompted to "find a school"), and then you will be asked to synch via your EPSB Gmail or will have to manually enter your email and password.
OR
You can access the account / platform on a desktop / laptop / chromebook via https://soraapp.com/welcome/login/200093 . From there, it will authorize logging by clicking "Sign In Using Edmonton Public School Board" and then you will be prompted to enter your EPSB / Google Mail email address and password. This should automatically sign you in.
If there are any issues with installation and usage, please send students to see Mr. Semenuk in the library.
Principal's Newsletter Subscription