M.E. LaZerte News

Subscribe to M.E. LaZerte News through
M.E. LaZerte School Land Acknowledgement for Treaty 6

Message from Principal George Hoyt
Inspire passion. Develop character. Change lives.
Welcome to M.E. LaZerte High School. I am privileged to get to work here and be part of such a strong community. M.E. LaZerte is a proud community with a long history. The history of the school has set the standards for all staff and students. Over time, we have built success by working cooperatively with parents/guardians and the community to provide a meaningful educational experience for all students. These relationships are the foundation to our students having all the support they need to successfully navigate high school. M.E LaZerte has one of the top high school completion rates in the city and province because of this.

M.E. LaZerte provides a safe and inclusive environment that focuses on engaged teaching and learning. Our learners are challenged to be leaders through service around their school and in the greater community.

To all community members and stakeholders, we have an open door policy at M.E. LaZerte. We work through people, not around them, with a focus on solutions and support for next steps. I will provide leadership that will continue to ensure a collaborative school environment. I will empower students and staff to focus on differentiated instruction that meets the needs of every student. I hope to see you around our M.E. LaZerte High School community.

Sincerely,
George Hoyt
Principal
September 30 - National Day for Truth and Reconciliation - No School but the Learning Continues - Thank-you to Alumni Donors
Thursday, September 30th is the first National Day for Truth and Reconciliation in Canada. Although this is an EPSB board declared holiday, the learning necessarily continues on this day - and every day. September 27-29 at LaZerte has included a virtual smudge by our cultural liaison and Kokum Veronica Graff, personal meaning statement sharing related to the Circle of Courage key foundations of belonging, mastery, independence and belonging, the making of bannock by some of our First Nations, Métis, and Inuit youth, and an overwhelming degree of participation in Orange Shirt Day. Teachers also incorporated a Truth and Reconcilliation focus to in-class lessons and shared a ceremony live-streamed by EPSB.
We are also fortunate to have M.E. LaZerte alumni recognize that what was learned when they were in high school was insufficient to what is required to advance Truth and Reconciliation and begin to fulfill our obligations as treaty people. A key focus of the Truth and Reconciliation Commisison's Calls to Action is that of education. A re-connection to some of our Lazerte, settler alumni was made through our maintained networks, and we are deeply grateful that the following organizations (which LaZerte alumni own or work for) and the personal donations of others, has led to a collective donation of over $2000 to further enhance our LaZerte library, First Nations, Métis, and Inuit resources - a source of wisdom that we've been working hard on rejuvenating and expanding over the past few years. Thank-you to Civeo for contributing nearly half of this amount. We commit to using these resources for deeper, meaningful learning, sharing this learning with the donors below, and encouraging them to intentionally step into this vital learning as individuals and within their workplaces.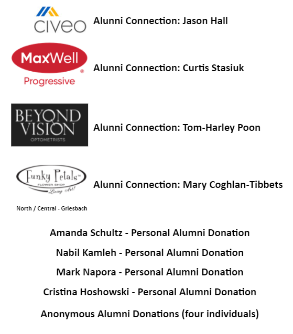 Congratulations Xavier - Recipient of the 2021 Garth Worthington Scholarship!
Congrats to Xavier for winning the Garth Worthington Memorial Scholarship for outstanding skill in vocal and choral music!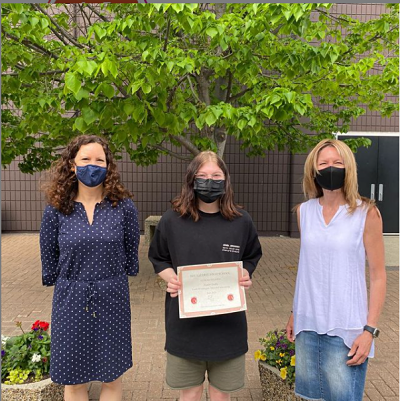 Welcome an International Student Into Your Home
Can you provide a welcoming and caring home for a 15 to 18-year-old international student? Our International Student Program is growing and we need your help. Learn about the benefits of becoming a host family and apply at http://www.whyihost.ca/edmonton. If you have questions about the hosting experience, contact hostinfo@CanadaHomestayNetwork.ca