News 2020-21

Subscribe to News 2020-21 through
Save the Dates: IB Info. Night - Feb. 3 and Open House Mar. 9
M.E. LaZerte's International Baccelaureate (IB) information night will take place online, Thurday, February 3, from 6:00pm - 7:30pm. A link to the Google Meet will be shared here on this website, 24 hours before the event.
M.E. LaZerte's Open House will take place Wednesday, March 9, online, starting at 6:00pm. More information will be posted here. on the M.E. LaZerte website, in early February.
Please spread the word to friends, family, and neighbours in your communities about these opportunities to find out more about the great programs and reasons to attend LaZerte!
New Bell Schedule Starts Monday, Nov. 29
M.E. LaZerte will be moving to a slightly modified bell schedule starting Monday, November 29.
Last year High Schools planned for a quarterly system and communicated start and end times to Edmonton Transit System (ETS/ bussing) based on that. There was then a Division wide shift to semesters. Original start and end times did not leave time for transitions between classes in the morning or afternoon. As a result we currently have limited transition times and only 40 minutes at lunch. ETS is able to adjust the bus schedule to accommodate a 3:30pm end time for M.E. LaZerte effective Monday, November 29, 2021. We are now able to add two minutes to the breaks between classes and six minutes to our lunch break.
Please see the new schedule below.
Block 0: 8:13 - 9:27
Collab / Prep 8:45 - 9:30
Block 1 9:30 - 10:45
Block 2 10:52 - 12:07
Lunch 12:07 - 12:53
Block 3 12:53 - 2:08
Block 4 2:15 - 3:30
Block 5 3:40 - 4:55
September 30 - National Day for Truth and Reconciliation - No School but the Learning Continues - Thank-you to Alumni Donors
Thursday, September 30th is the first National Day for Truth and Reconciliation in Canada. Although this is an EPSB board declared holiday, the learning necessarily continues on this day - and every day. September 27-29 at LaZerte has included a virtual smudge by our cultural liaison and Kokum Veronica Graff, personal meaning statement sharing related to the Circle of Courage key foundations of belonging, mastery, independence and belonging, the making of bannock by some of our First Nations, Métis, and Inuit youth, and an overwhelming degree of participation in Orange Shirt Day. Teachers also incorporated a Truth and Reconcilliation focus to in-class lessons and shared a ceremony live-streamed by EPSB.
We are also fortunate to have M.E. LaZerte alumni recognize that what was learned when they were in high school was insufficient to what is required to advance Truth and Reconciliation and begin to fulfill our obligations as treaty people. A key focus of the Truth and Reconciliation Commisison's Calls to Action is that of education. A re-connection to some of our Lazerte, settler alumni was made through our maintained networks, and we are deeply grateful that the following organizations (which LaZerte alumni own or work for) and the personal donations of others, has led to a collective donation of over $2000 to further enhance our LaZerte library, First Nations, Métis, and Inuit resources - a source of wisdom that we've been working hard on rejuvenating and expanding over the past few years. Thank-you to Civeo for contributing nearly half of this amount. We commit to using these resources for deeper, meaningful learning, sharing this learning with the donors below, and encouraging them to intentionally step into this vital learning as individuals and within their workplaces.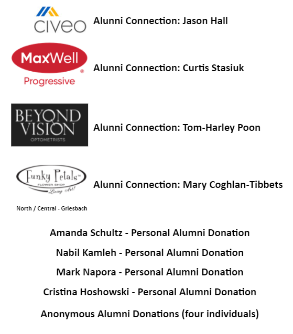 Parents in the Mandarin Bilingual Program - Join the Edmonton Chinese Bilingual Education Association!
EDMONTON CHINESE BILINGUAL EDUCATION ASSOCIATION (ECBEA)
Parents with students enrolled in the Mandarin Bilingual program are invited to become active members of the ECBEA, helping to support its goals, including:
promoting the learning and understanding of Chinese language and culture
serving as a collective voice on behalf of parent members
liaising with Edmonton Public Schools on matters pertaining to Chinese bilingual education
promoting Chinese language education through public media
providing volunteer support where required.
EPSB 2021-22 BACK T0 SCHOOL PLAN
We encourage families to read Edmonton Public School Board's 2021-22 Back to School Plan at their earliest convenience.