News 2020-21

Subscribe to News 2020-21 through
Quarter 3 Course Changes - See SchoolZone on January 22nd
Students requesting course changes for quarter 3 & 4 can do so by visiting SchoolZone and filling out the request form on January 22nd.
The school is currently in a re-scheduling phase as we adjust for students moving between online and in person learning for quarter 3. Please note that your current timetable may change prior to the start of quarter 3.
Important Grad Information Grade 12 Families - Please Review Thoroughly
See everything on the document by clicking this link for information such as:

Mandatory Grad Student Meeting Date and Time

Grad Gowns and V-Soles Purchases

Grad Parent Meeting MEET LINK and date

Grad Photo Bookings

Other Key Dates and Communications Info.
January Diploma Exams Optional - Parents Please Fill Out a Survey Regarding Student Intentions
On November 24, 2020, Alberta Education announced that diploma exams for the remainder of the year are optional.
We are asking parents to let us know if their student will write their January exam(s) by completing the short survey that is now available in the Forms section of your parent SchoolZone account. The survey will be open until 4 PM on Friday, December 18, 2020.
We will use this information to plan for exam writing space that adheres to COVID-19 protocols.
Please call the school at 780 408 9800 if you have any questions.
Student Illness What to Do. When to Get Tested for Covid. Legal Requirements if You Test Positive or Negative.
Please read this important document from the Government of Alberta instructing what a student needs to do if they are ill, given the current Covid pandemic.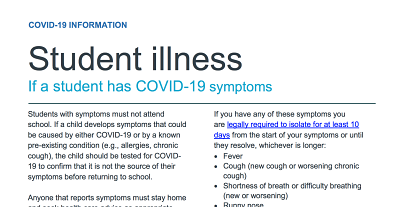 Mental Health Support Services Available Over the Holidays
If you find yourself in need of support this holiday season, there are many places offering support. The holidays can be filled with joy and rest, but they can also be stressful. If you find yourself struggling with mental health here is a list of services available over the holidays.
Walk in Counselling at AHS (Alberta Health Services) in Northgate Mall

Northgate Mall - 2nd Floor
Monday to Friday 12:30pm - 4:00pm
Latest time to arrive is 3:00pm-3:15pm
Children's Mental Health

Northgate Mall has counselling services covered by Alberta Health Care that cost you nothing.
The intake number there is: 780-342-2701
Canadian Mental Health Association (CMHA)
Principal's Newsletter Subscription